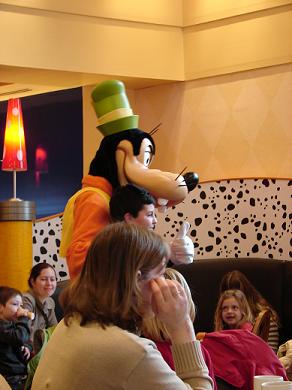 One of the highlights of a trip to any Disney Park is meeting the characters.  It was certainly a big draw for my kid while we were at Disneyland Paris in France last week (and maybe me, too – after all, who can resist the charms of that Mickey Mouse?  He's a bit of the bee's knees, as they say).
You can hope for chance encounters with Minnie, Donald and crew in the park itself.  And many of the Disney hotels also have characters that hang out in the lobby.  But one of the surest ways to make sure your kid can meet Woody the Cowboy (and get a hug and autograph, too) is to schedule a breakfast, lunch or dinner at Cafe Mickey.
Cafe Mickey lies in the Disney Village – chock-a-block full of restaurants and cafes.  It's a bit dineresque – with dancing waitstaff, Disney cartoons playing on a big screen and, usually, a big buffet that can easily stuff a hungry family.  Often, meals at Cafe Mickey are a part of a half-pension or all-inclusive package at Disneyland Paris – but if you prefer, you can go separately.