Drums beat in the distance when you approach Animal Kingdom Lodge's Jambo House. Entering the circular lobby of this Walt Disney World Resort your African themed culinary vacation begins with authentic African artifacts, thatched ceilings, large beams, and a mud fireplace. If you continue to the far end of the lobby, views of the surrounding savanna includes animal inhabitants from Animal Kingdom.  Take the elevator to the ground floor for the restaurant Jiko – The Cooking Place (pronounced jee-ko) for African-inspired cuisine.
Jiko's décor is the warm and welcoming colors of the African landscape – browns, oranges, yellows, blues and reds. Floor to ceiling windows offer a view of a water feature (Look closely at rocks for a hidden Mickey). Bird-like light fixtures take flight from the dark blue ceiling, and the staff wears traditional African garb.
An open show kitchen with twin, orange, wood-burning ovens allows guests to watch the chefs prepare meals, such as the brick oven-fired flatbreads. (Follow chimney up for another hidden Mickey.) The bar area is to your left and the Cape Town Wine Room straight ahead behind the glass walls of wines, where occasional wine tastings occur. The menu consists of flavors of traditional African, Indian and Mediterranean cuisine, including vegan, vegetarian and meat-based dishes.  Jiko also caters to lactose and gluten intolerant diets also, but be sure to call ahead.
I hadn't experienced African cuisine before, so I wasn't sure what to expect. Some flavors are bolder than others, such as the Durban shrimp curry, but I discovered unique and flavorful tastes, most a combination of sweet and spicy. (Bonus: I shared with a TravelingMom.com blogger, so I tasted twice the dishes!)
All were complemented by an amazing wine list, with a large selection of South African wines. The wine list has earned Jiko multiple awards including Orlando Sentinel Foodie Best Wine List Award and the Wine Spectator Excellence Award for Most Outstanding Wine List.  Although all the South African wines pairings were spot on, I was pleasantly surprised by the starter 2008 Graham Beck Brut Rose sparkling wine, apparently so good it is also served by Nelson Mandela and U.S. 1st Lady Michelle Obama.
Sampler Plate with three appetizers
1) Tibs Watt in Pannekoeke Braised Beef Rolled in "crepes" with Peppadew-Olive Tapenade – Fancy name, but not terribly exciting.
2) Crispy Beef "Bobotie" roll with Cucumber Raita, Green Mango Atjar, and Honey Roasted Groundnuts – Like the crunchy texture, slightly tangy and yummy.
3) Mitmita Spiced Ahi Tuna "Tataki" with hearts of Palm Salad, Avocado and Pepadew-cilantro Vinaigrette – Lightly drizzled with vinaigrette, sweet and spicy, my favorite!
Bonus chef inspired appetizer:
Grilled Wild Boar Tenderloin with Mealie Pap, Chakalaka, White Truffle Oil and Micro Cilantro. I admit "wild boar" had me a bit reluctant, but Wow!  It was a stewy dish, the boar wasn't gamey as I expected, and another just the right spicy and delicious.
Starters
An amazing Roasted Butternut Squash Soup poured over a spiced cottage cheese, toasted almond and coconut, just the right creamy, needed a bit more something. I added pepper and it seemed to do the trick!
Jiko Salad with Heirloom Apple, Pistachio, Pumpkin Seed, Sheep's Milk Cheese and Pomegranate Vinaigrette, the dressing pulled the flavors out.
Main Dishes
Oak-grilled Filet Mignon, Berbere Green Beans, and red wine reduction.
At the suggestion of the server, we substituted the Roasted Fingerlings for the Mac n Cheese. Wow, creamy, yummy, slightly zesty, and the red wine reduction adds flavor to the entire dish. (The red wine sauce was slightly too red for me..causing me to check to see if filet was too rare, although it was cooked perfectly.)
I rarely order chicken when I'm out, but I couldn't resist the name of this dish:
Sikhumbuzo's Peri Peri Chicken with Crushed Potatoes, French Beans, Mango Sambal and Onion Jus (pictured at top).
The chicken wasn't overcooked as I often experience. In fact, it was perfectly moist, and the Mango added a sweet and spicy depth to the dish.
Obviously, I was stuffed by the time our dessert sampler arrived, but who can resist dessert?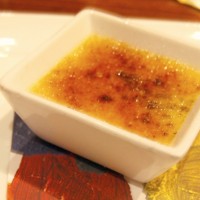 Crème Brule with warm Chocolate bottom (pictured above), Chocolate Mousse and Cheesecake – all incredible.
Consider booking the Wanyama Safari Resort Tour, only available to guests of the Animal Kingdom Lodge. The tour includes an up-close safari followed by an African feast at Jiko.
Jiko is probably my favorite restaurant experience at Walt Disney World Resort (so far). The atmosphere felt like I was transported into Africa, and the food was exceptional and authentic. Of course, the extensive South African wine selection is also a perfect complement to the meal.
Jiko – The Cooking Place
Animal Kingdom Lodge – Jambo House
2901 Osceola Parkway
Lake Buena Vista, FL 32830
Make reservations up to 180 days prior to visit at (407) WDW-DINE or (407) 939-3463
Make it a night out and enjoy the Nightlife at Walt Disney World's Boardwalk.
Post by Diana Rowe
Photo Credits: Diana Rowe & Walt Disney World/Jiko