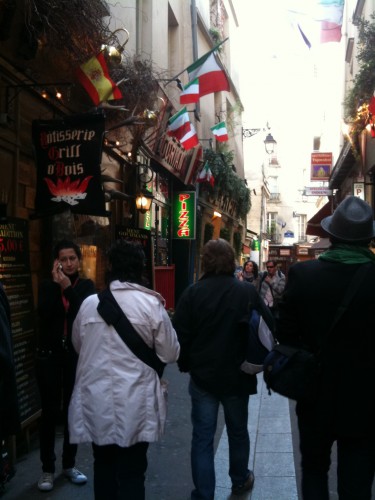 Oh, there really is nothing like Paris is springtime.  When the sun is shining, it is the perfect time to explore.  And once you've tired yourself out exploring Paris' favorite attractions, do that most Parisian of Parisian undertakings – grab a bite to eat at an outdoor cafe.  (Whether you do this with a beret and cigarette is optional).
Certainly there are plenty of cafes adjacent to any tourist spot in the city.  And most offer nice views and unparalleled people watching if not adequate food.  But one of my favorite places to discover a new (and relatively inexpensive) place to eat is the city's famed Latin Quarter.
Head on over to the Boulevard Saint-Michel and ogle at the large statue of the naked angel for a few moments.  It's worth a few photos.  Then turn left on to the Rue de la Huchette and wander the connecting alleys, peeking in at the various restaurants and food stalls until one grabs your fancy.
My friend, Eva, once commented that these streets and alleys near Boulevard Saint-Michel are the Parisian equivalent to a mall food court.  In some regards, she's not far off the mark.  You'll certainly see your Haagen-Daaz, kebap stalls and pizza joints here – though, thankfully, a Manchu Wok is absent.
But you'll also find a few unexpected pleasures.  It was in this maze I found La Grange Saint Michel and some fabulous raclette one fine Paris day last year.  It's also where I indulged in a lovely chicken and olive tagine at a Moroccan joint aptly named, "Au Bon Couscous" this time around.  Seafood, Greek, Moroccan, Middle Eastern – you'll find it all here.  All you have to do is wander around, take a look and maybe let a hawker usher you inside a place you might not have noticed before.
———-
The Latin Quarter
Where Boulevard Saint-Michel meets Rue de la Huchette
Paris, France
———-
Photo courtesy of Kayt Sukel.