Your visit to South Dakota is all about the Black Hills' scenery and attractions, like Mt. Rushmore, not the food, but the Loud American Roadhouse's "legendary steak tips" almost make up for the sub-par food offerings in Sturgis.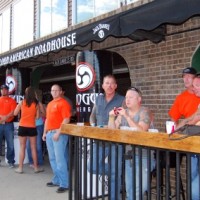 Located on Main Street of Sturgis, Loud American Roadhouse is one of the few dining establishments that remain open all year. The others open seasonally during the summer for tourists, especially for the annual motorcycle rally, Sturgis Bike Rally. During the Rally, Loud American also doubles as a live concert venue.
Loud American touts their "legendary steak tips" with signage and word of mouth, so how could I not order a basket?
Steak tips are 8 oz of tenderloin beef lightly dusted with herbs and spices and flash-fried – and tender! Surprisingly, not greasy, and most definitely the best meal that I had during my 6-day stay in the Black Hills. The Loud American fries were also super tasty, crunchy and lightly seasoned.
One of my friends ordered the Cajun Tip Pasta, and he shared it with our group. The creamy white sauce was seasoned perfectly, with a mix of peppers and onions.
I've eaten here several times in the past, mostly ordering a burger, which South Dakota dining establishments often cook to leather. Loud American did a pretty decent job of retaining the juices of the fresh ground beef without overcooking. Salads are excellent, including the Legendary Steak Tip Salad and Signature Chicken Salad, loaded with vegetables.
Throughout the week, Loud American offers many specials, including Sunday night's all-you-can-eat-steak tips and Happy Hours. Be forewarned – service is always slow. Although for our visit the week before the Rally, we lucked out and had a decent server.
1305 Main Street
Sturgis, SD 57785-1528
(605) 720-1500