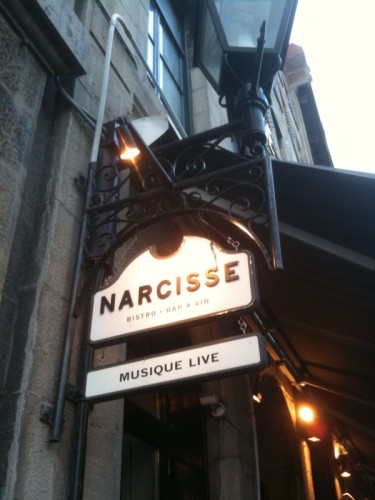 When they told me the name of our destination, I laughed.  After all, Narcisse sounds a bit like a joke – calling to mind L'Idiot from Steve Martin's classic film, "L.A. Story" or perhaps some Saturday Night Live sketch involving trendy celebrities and mirrors.
But my laughter faded as we approached the heart of Old Montreal.  It almost felt like I was stepping into a restaurant along Paris' Left Bank.  Gorgeous old building?  Check.  Funky, gorgeous decor?  Check.  Sidewalk seating?  Check.  River view?  Check.  And delicious smells wafting from the kitchen?  Check.  Check.  And check again.
My mouth started watering as soon as we approached the Maitre D's stand.
But we weren't ready to sit down quite yet.  A word to the Maitre D and we were pointed to the elevator.  I started to protest as we walked past the ground floor cafe.  But a surprise was in store.   We were headed to the roof to enjoy a fantastic Quebecois meal with an unparalleled view of the old city.  Even with a stiff breeze coming off the St. Laurence, I wouldn't have traded it for anything.  (And, for the record, lap blankets were available for anyone who asked).
The lamb served in Quebec is not the lamb I grew up with.  There's no mint jelly, no stringy, tough meat cooked past its prime.  It seems to be all tender and tasty and wonderful.  And Narcisse's lamb was no different.  It lived up to the region's reputation and then some.  My chops were perfect – marinated in some type of sea salt mixture.  Forget decorum (or any personal narcissism), I couldn't help but suck the marrow from the bones.
The wine list was also impressive – and the staff knowledgeable and open.  It was the perfect way to get to know Old Montreal.  And it was more than perfect enough to convince me to return.
———-
Narcisse Bistro + Bar a Vin
93 Rue de la Commune Est
Old Montreal,
QC H2Y 1J1, Canada
Tel:  (514) 392-1649
———-
Photo courtesy of Kayt Sukel.