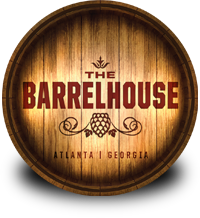 It's always nice when a new restaurant opens up within walking distance, and we were treated to just such an occurrence the other day. A deli that we all from work had gone to—not frequently, but not rarely, either—had suddenly gone dark a few months ago. In its place, a new restaurant began to take shape. We watched as the storefront deli transformed into what looked like was going to be a pub. Eventually, a name was attached to the project: The Barrelhouse.
Being on the edge of Georgia Tech, we thought a pub was a good call, but we were wondering if there was going to be food available as well. It turned out that we needn't have worried. The Barrelhouse wants to be known for its food, as it is calling itself "Midtown's newest gastropub."
It advertises that it features one of "Atlanta's largest selections of craft beers and delicious food at affordable prices, as its menu focuses on locally sourced, seasonal ingredients and will change every few weeks to make sure our food is always fresh." It also wants techies and Midtowners to know that it offers a full menu of classic and custom cocktails and a food-friendly wine list. Hell, it might was well say it's a place "where everybody knows your name . . ."
Anyway, Will—the boss—Willie, Britt and I happened to be walking past The Barrelhouse on its opening day and Will offered to treat us all to lunch. Not wanting to deny his generosity (and pass up a free lunch), we all readily accepted.
The interior looked nothing like the old deli, with dark, rough walls, interesting lighting fixtures and booths and tables. We gave the lunch menu a quick look—since we all had work to get back to and the boss was in the office today—and ordered. Will opened with an appetizer to share: Gulf Shrimp Corn Dogs ($9). We all saw his opening bid with sandwiches: BBQ Pulled Pork ($8.50), Fried Squid Po Boy ($8) and a Roasted Turkey ($9.50). Britt ordered half the turkey sandwich and a salad.
The wait was fairly short, despite it being the first day of business and the fact that the place was pretty crowded. The shrimp "corndogs" were simply big, meaty shrimp individually skewered, battered and deep fired. But they were good, served with a chipotle ketchup and a house-made mustard.
And the sandwiches were good, too. The BBQ Pulled Pork sandwich was served with horseradish slaw and house pickle on ciabatta bun. The Roasted Turkey sandwich had avocado, bacon, balsamic red onion marmalade and something wonderful-tasting called baconnaise on slices of multi-grain bread. And the Fried Squid Po Boy was filled with fried tentacles and little squid bodies, deep fired, and covered with a black chili oil, avocado and sriracha mayo on a country baguette.
And because it was lunchtime on a workday, we all kept control and didn't sample any of the beer, although it was difficult to do so. Soda and iced tea would have to do.
Overall, we all thought our lunches were pretty tasty and were talking about coming back when the bill came and Will was a little put off by the total: $78 for four sandwiches and an appetizer. He grumbled a bit about it on the walk back to the office, so I don't believe we'll be having any more "free" lunches at The Barrelhouse. However, having peeked at some of the other items on the menu, I may come back to sample a few other specialties (the Seared Beef Tongue sandwich ($8.50) reminded me of something my Sicilian grandmother used to make).
The Barrelhouse
22 5th Street NW.
Atlanta, Ga. 30308
404.844.5601
Post by and photos (unless otherwise stated) credited to Gregory Watkins.